How to effectively respond to client requests.
Trips have a single Main Contact. This must be one of the Planners in the Team that owns the trip.
If you're not in a Team, then you're always the Main Contact and it cannot be changed.
Otherwise, the Main Contact can be changed to another member of the team.
How is the Main Contact used?
1. Sets the email address used to send Automated emails
Example of Automated Payment Reminder, where "Ben Southall" is the Main Contact:

Example of Automated Task Reminder, where "Pro Planner Demo" is the Main Contact:

This email can be changed under Account -> Profile by the Main Contact (Planner).
2. Listed As Contact on Trip Page
The Main Contact is Listed As Contact on the Trip Page by default when they become the Main Contact.
Any Co-Planner can change the Main Contact so they are NOT Listed as a Contact on the TripPage. This is controlled from the Trip Users section of the Trip.
However, this is not recommended since they will be the address sending the automated messages so it might be confusing to travelers.
Below is an example of what your travelers will see on the TripPage when you have more than one Trip User Listed as a Contact.
Remember that you can change the 'Contact Us!' menu to be anything you like.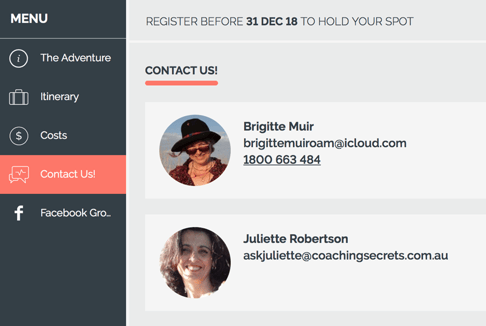 How can I set my Team to be the Main Contact of Trips they Create?
That's easy, as the Team Owner or an Admin, you'll be able to set this when creating a new Team Member or you can edit them from Account -> Team Members.