By default, the Trip Owner is the Main Contact on a Trip.
Only the Trip Owner can change the Main Contact for a Trip.
However, if you should always be the Main Contact on trips you create, your Team Owner can make that the default on your Planner Account.
To change the Main Contact from to another member of the Team once the Trip has been created, ask the Trip Owner to click into Trip Users on the desired Trip.
In the table of Trip Users, the Main Contact will be shown with a STAR next to their role, like this:

When you hover over the star, the MAIN CONTACT link will appear.

Click to change the Main Contact.
You'll be prompted to select from one of the other Planners in the Team.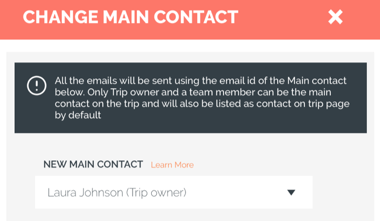 If you don't see the User you want in the list, they may just be a Co-Planner. If that is the case, they CANNOT be a Main Contact.
Your Team Owner/Admin added team members during account setup. But they can add more anytime up to their limit.