Highlights, Itinerary & Optional Add-ons
How-to: Update Your Pricing Section Heading & Pricing Explanation
Explain to your Travelers which costs are included, and which are excluded. This section will show on a Traveler's Invoice.
What is the Pricing Section Heading?
This shows as the title of your PRICING EXPLANATION
The PRICING SECTION HEADING will say "INVOICE:" by default, if you decide to leave it blank


What is the Pricing Explanation?
This is the section on the INVOICE where you should describe what is included (and not included!) in the cost of your trip
We give you default text that you should change - click SAVE CHANGES once you've updated with your own language!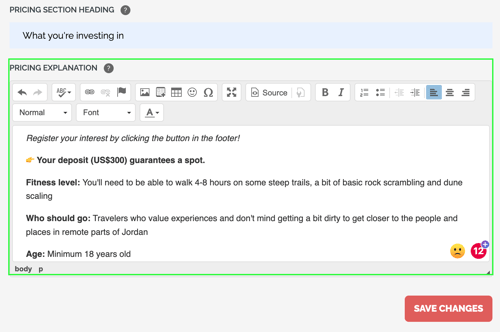 How does this section look from the Traveler's perspective?

---
Need more help?
Reach out to the YouLi support team via a chat box at the bottom of your screen or submit a ticket request. If you need more advanced support, schedule a 1:1 Consulting session with one of our experts, as we will walk you through the features and best practices.