NOTE: We've renamed "Travel Page" to Trip Page, so you'll see a transition to this new terminology in all our content over the next few weeks.
1. More control over what appears on your Trip Page
✅ Turn on/off menu visibility under Update Trip-> Settings



🆕 Change the label for Costs section to be different from the heading


Why does this matter? There's many reasons...
Don't want to show pricing yet? Turn off that menu.
Concerned about privacy? Hide the People menu.
Don't want to show the Itinerary in a detailed format since they are all on Highlights? Hide the Itinerary menu or change the label to PRINT so people know where to get the best view for Printing.
Don't want people to see Tasks just yet? Hide the Tasks menu until you're ready to show it - don't forget to turn it back on!!!
Show the sections to make your Trip Page look the way you want it to. Learn How here!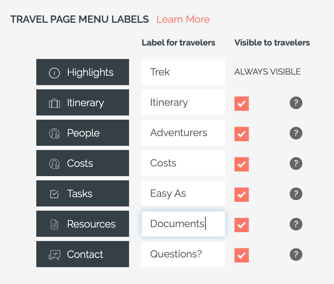 2. 💲Better Payment Descriptions in Stripe
Ever wondered who rj456@gmail.com is when trying to reconcile a payment from Stripe?
Well, now you don't have to guess, because we send the details in the payment description. This will include:
the name of the person paying
the trip name
the installment
the number of people included in the payment
It will look something like this in your Stripe dashboard:

3. Bug Fixes & Tweaks
Links in descriptions are now underlined to make them more obvious on the Trip Page
Completing tasks is smoother - sometimes Travelers couldn't upload documents - ALL FIXED
Better defaults when editing Highlights & Itineraries

The right tab will be selected when you close the item
The default item Location is no longer set to the trip location, so it is only set if you pick it

Traveler profile improvements - the updated image they select appears right away
Improved messages on Quotes to be clearer about finalizing the price
---
Need more help?
Reach out to the YouLi Support Team via the chat box at the bottom of your screen or submit a Support Ticket request. If you need more advanced support, schedule a 1:1 Consulting session with one of our experts, and we will walk through Traveler flow options & best practices.