Adding a Trip Coupon to give your Travelers a discount is super easy, for you AND your Travelers!
⚠️ Important things to note ⚠️
The (name of the) CODE (i.e. "Travel2023") cannot be updated after you create the COUPON, so be sure to double-check that it is correct
You can have more than one COUPON active at once, but Coupons can only be applied by Travelers to TRIPS in BOOKINGS MODE
Only one Coupon can be used per booking - so even if more than one Traveler registers, they will only get the Coupon applied once. This means, Travelers going on a trip together will either need to book separately to use multiple Coupons

or

you can create a special couples/friends/family Coupon.
The discount is a fixed amount (i.e. US$100), not a percentage
The Coupon

CANNOT

be removed once a payment is made
Coupons can only be added to individual TRIPS. Contact YouLi Support if you would like to add a Coupon to work across all of your Trips.
Once a Traveler registers using a COUPON, you'll see this in your ACTIVITY FEED and also in the MANAGE PAYMENTS tab
Discount is applied to the BALANCE, not the initial deposit.
How to: Add a new Coupon to your Trip
Click on MANAGE TRIP COUPONS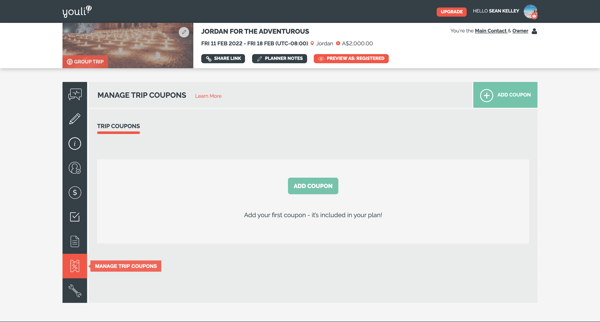 2. Select ADD COUPON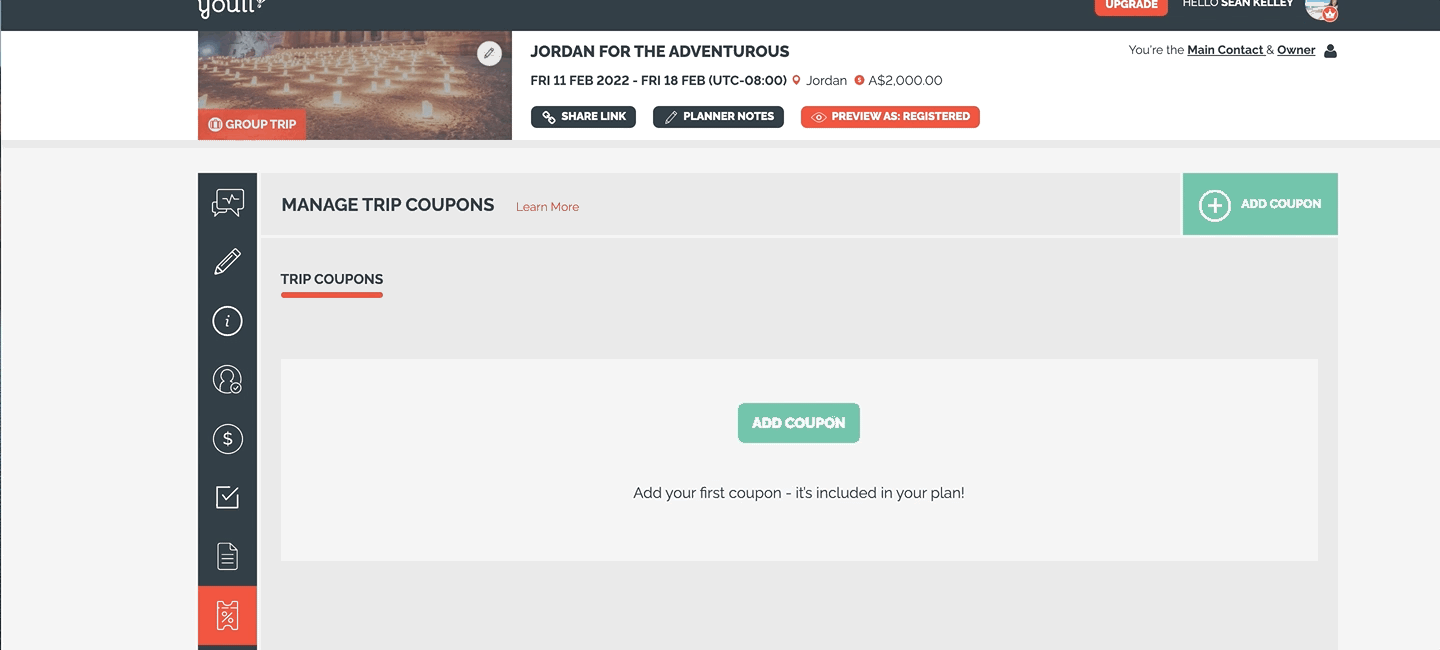 3. Add coupon details (valid dates, amount, etc.)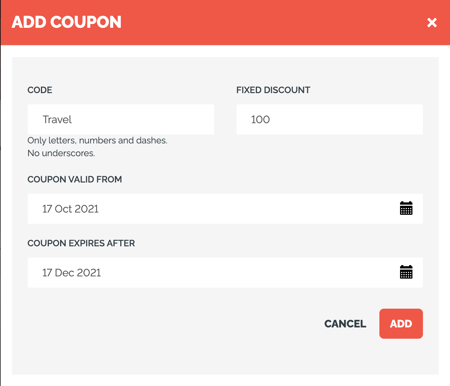 4. Click on ADD to save the coupon

Editing existing Coupons
After creating a COUPON, you can edit:

The activation date - using the VALID FROM field
The expiration date - using the EXPIRE AFTER field
The DISCOUNT AMOUNT

To edit any of those fields, from within the MANAGE TRIP COUPONS tab, click on the PENCIL ICON to edit the details of your Coupon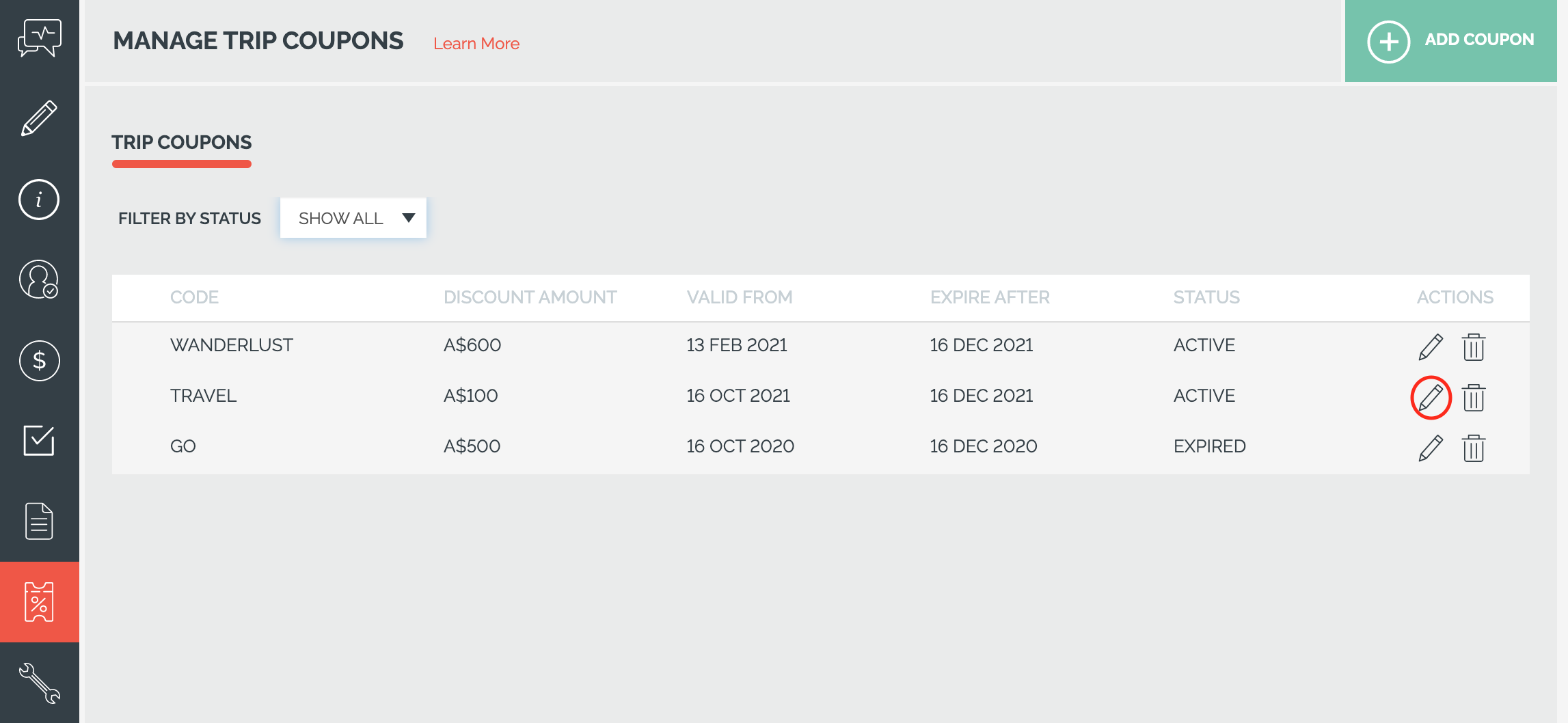 Managing Coupons
The FILTER BY STATUS dropdown allows you to filter your view.
Use this filter to stay organized and ensure only coupons you want Travelers to use, are active
Filter by:

ACTIVE
FUTURE
EXPIRED
Or instead, SHOW ALL!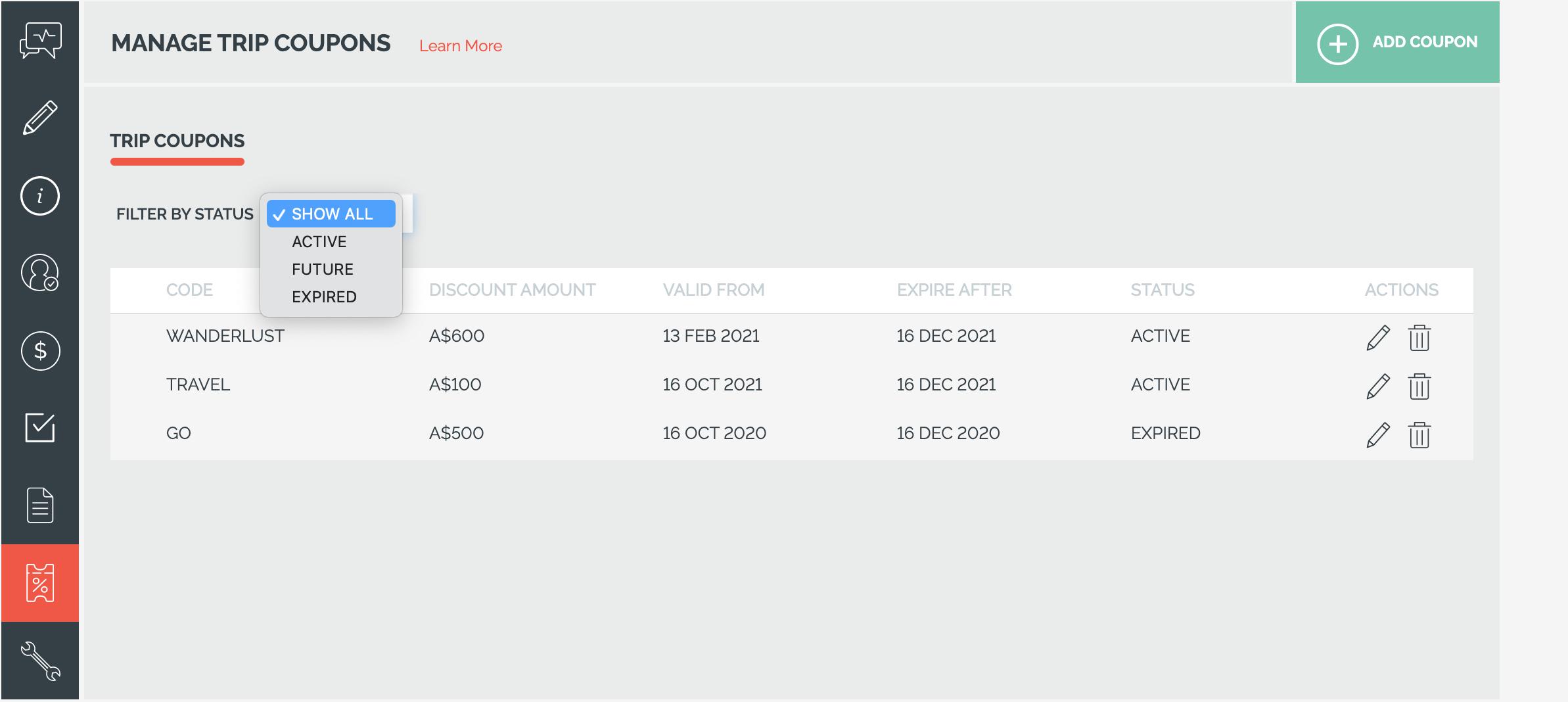 Delete a Coupon
CAUTION: You cannot delete a Coupon that has been used by a Traveler
1. From MANAGE TRIP COUPONS, click on the TRASHCAN ICON to delete the coupon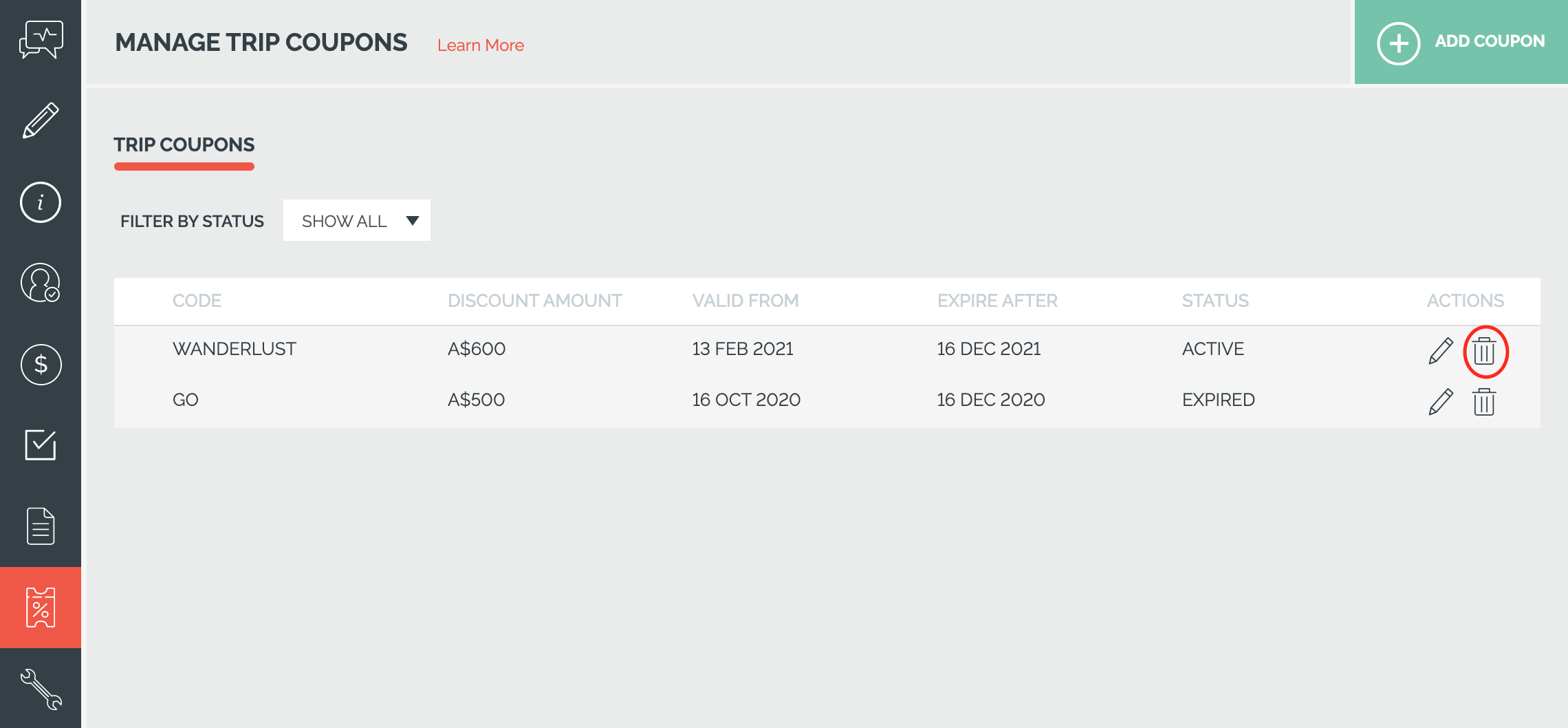 Troubleshooting
Why isn't my Coupon working?
It may be the formatting. Dashes are allowed but not underscores or spaces. So if you create a Coupon called "EARLY REG 10" (with spaces) it will show an error, but "EARLY-REG-10" will work.
---
Need more help?
Reach out to the YouLi support team via a chat box at the bottom of your screen or submit a ticket request. If you need more advanced support, schedule a 1:1 Consulting session with one of our experts, as we will walk you through the features and best practices.