YouLi is optimized for groups of people traveling together and in many cases, each individual Traveler will be handling their own payments and tasks. However, if you cater to couples, families or teams, then you need Invitation Groups.
What does an Invitation Group do?
When people are in the same INVITATION GROUP, they can:
Pay altogether on one invoice
Respond to OPTIONAL ITEMS together (i.e. a camel ride or a market lunch)
Complete each other's tasks
If a Traveler in an Invitation Group is making a payment on their invoice, it will be split across ALL travelers. For this reason, this is not always a great setup for friends.
Why are Invitation Groups useful?
INVITATION GROUPS are helpful when one person wants to do all of the administrative work (i.e. paying, uploading passports & visas, etc.) for all group members
They're especially useful for families and couples
How can I set up an Invitation Group?
You can allow your Travelers to register in an INVITATION GROUP. When a Traveler registers with extra people, they are automatically added to the same Invitation Group.
Discover how you can update your Invitation Group settings to allow your Travelers to do this themselves, upon trip registration.
Can Planners add Travelers to an Invitation Group?
YES! As a Trip Owner or Co-Planner, you have the ability to edit and manage Invitation Groups, visible under MANAGE PEOPLE. You can change the Invitation Group name after the registration is made without breaking the group.
How can I tell if someone is in an Invitation Group?
Under MANAGE PEOPLE, each INVITATION GROUP will have the same colored group logo over their avatar, like the image below.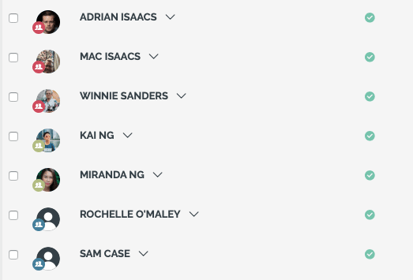 Can I set a maximum number of people who can be added into an Invitation Group?
YES! If you have said 'Yes' to allow your Travelers to register in INVITATION GROUPS, you'll be able to limit the number of people that can be added to an Invitation Group.
Does everyone in the Invitation Group need to provide an email address?
NO! Only one member of the INVITATION GROUP needs to give an email address. This is especially useful for couples and families with children, where the children may not have an email address.
Alternatively, it is also okay if all members have provided their email address. Whoever clicks through on the notification to pay or complete the task will be allowed to do so.
What is one person in my Invitation Group needs to have a different price for their Package?
People in the same INVITATION GROUP are generally on the same PACKAGE since it's used to track room inventory. However, you can set a PERSONALIZED PRICE for anyone in the group. See how to do that here.
---
Need more help?
For more tips on pre-trip customer support join the YouLi community of travel professionals with monthly LIVE webinars and Q&A sessions.