Trip Coordinators are a view-only role. This is great for anyone you want to give access to trip information but do not want to edit or make changes.
WARNING: Once an email address is assigned to be a Trip Coordinator, they cannot have any other Role and CANNOT make their own trips.
Who should I add as a Trip Coordinator?
You will want to invite a Trip Coordinator to your trip when you are working with someone that needs to see all the information across all your Travelers but should not be able to make changes to the itinerary or other trip information.
TIP: Often, a Trip Coordinator will go on the trip as well. You might also want to add them to the trip as a Traveler.
Examples include:
Ground tour operator
Guide
Group Leader

Professor
Teacher
Coach
Manager

Executive Assistant
What will my Trip Coordinator have access to?
As a Trip Coordinator, the User has a VIEW ONLY role, so they will only be able to:
Share trip link
Invite Travelers
View ITINERARY & HIGHLIGHTS and optional itinerary responses
View TASKS and TASKS RESPONSES
View Resources & UPLOADS

Trip resources provided by Planner to travelers
Documents uploaded by travelers in response to Tasks

Send messages, invites, and reminders to Travelers
TIP: The Trip Owner will be able to send messages as if they were the Trip Coordinator since they may get better responses from people if they get the message from someone they know.
How do I add a Trip Coordinator?
Trip Coordinators can be added to a trip from MANAGE TRIP PLANNERS
Select ADD USER
Enter their email

Fill out the information and select ADD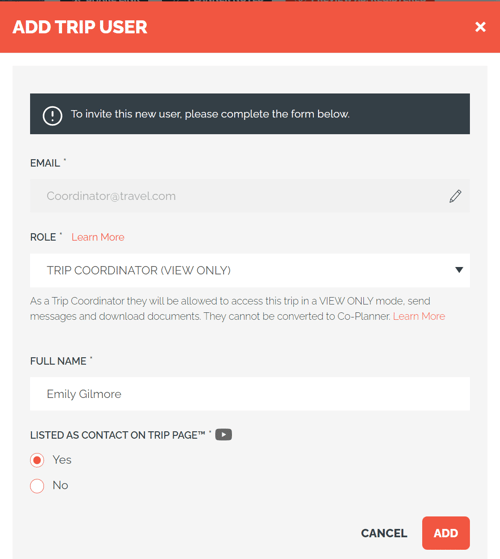 ---
Need more help?
Reach out to the YouLi Support Team via the chat box at the bottom of your screen or submit a Support Ticket request. If you need more advanced support, schedule a 1:1 Consulting session with one of our experts, and we will walk through Traveler flow options & best practices.