The fastest way to invite your email list to your upcoming group trips.
If you need to invite people to a Trip from a spreadsheet or downloaded from another system, then BULK UPLOAD is the fastest way to do that.
Take Note: Bulk Uploads CANNOT be undone. Be sure to review the preview carefully and your data prior to clicking CONFIRM.
OTHER OPTION: Perhaps you connect a zap?
*be sure to check the packages available to you by clicking UPGRADE in YouLi.
How To Bulk Upload from Manage People
1. From your Dashboard, click on any Group Trip
2. Click on 'Manage People'
3. Click on 'Bulk Upload'

4. In the pop-up add your list of invitees by uploading your csv file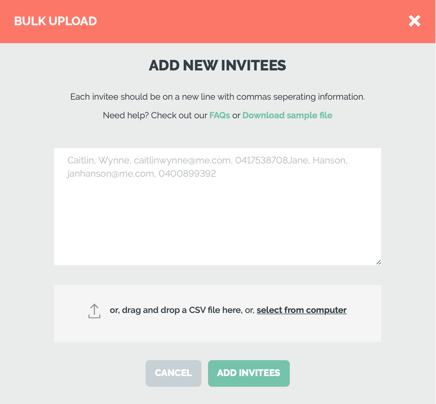 Data Formatting Rules:
You have two options to upload your data:
1. Paste or type into the box provided
2. Upload a file
Either way, the formatting requirement is the same, each row must have 3 comma-separated fields:
First Name,Last Name,Email,Phone
Take Note: Be sure that there are no spaces before or after the commas. If there are spaces, the upload will NOT go through.
First Name and Last Name must NOT be merged
This was changed in release 1.110
VALID: Name as TWO fields:
FirstName,LastName,Email,Phone
INVALID: Name as one field: (DO NOT UPLOAD THIS FORMAT)
Full Name,Email,Phone
Email is required
Email address is the only required field, but all three fields must exist, see last row in the sample.
Email MUST be UNIQUE
There can be no duplicate emails in your list.
WARNING: Email is used as a key to do updates, so if the email is in the file twice, the upload will fail.
TIP: If you use a ESP like MailChimp or Campaign Monitor, you can load a list there and then it will de-duplicate for you and you can download from there to load into YouLi
No header row needed
Do not include a header row, it will cause the entire upload to fail.
If your other system has added it automatically, open the file and delete it before uploading into YouLi.
Sample File
In this same file we have
Row with First and Last name, email, but no phone number
Row with First and Last name, email, and phone number including country code
Row with First and Last name, email, and phone number
Row with First name only, email, and no phone number
Row with no name, email, and no phone number
Cat,Wynne,caitlin@youli.io,
Jen,Fein,jen@youli.io,+18583148840
Smita,Kulkarni,smita@youli.io,0423839021
Jamal,,jamal@youli.io,
,,noname@youli.io,
Updating in Bulk
If you already have people added, you can download them by clicking "Download sample file", then edit them and upload the changes.
TIP: Email address is used as the matching field to apply updates. This is helpful if you need to make changes to names and phone numbers.
NOTE: Changes to email address will result in a NEW invitee being added. You can either delete the other one, or, instead of uploading the new email, change the email address of the existing invitee directly by clicking 'EDIT' from the table.
NOTE: Blank phone numbers and names with matching email addresses will delete the phone number and name for that email. Be careful not to upload blank data if that is not the intended result.


Trip Status & Automated emails
Take Note: When a file of new people is successfully uploaded, NO automatic email is sent because they are in the "INVITED" state. This also means that no payment or task reminders will be sent until they accept from the Trip Page or you change their status from Manage People.
If you want to send an automatic email to all of the people so they can click to register on the trip:
1. Click into 'Manage People'
2. Then, select the new invitees
3. Click 'Send Invite'
If you want to change their status or invitation groups in bulk:
Only people with status of REGISTERED will get automatic reminders for payments and tasks.
You can change them quickly by using Bulk Edit.
Learn More about how Trip Registration works in YouLi.
USE ZAPIER INSTEAD:
Not a fan of manual data manipulation? Make a Zap instead
Use this sample zap to get started:
TROUBLESHOOTING:
Seeing an error on preview screen?
If you're not able to upload because of an unknown error, check your email addresses and make sure they do not have spaces or other invalid data.
Email addresses should be like: name@domain.tld
Where name is unique, domain does not contain special characters and includes a TLD (Top Level Domain) like ".com" or ".co.uk" or ".travel"
Invalid addresses look like:
name@ domain.tld
name!domain.tld
name@do!main.tld
Can't see the bulk upload button?
If the bulk upload button is missing, try on a larger screen.
Why is my excel not uploading?
Make sure you are following the data formatting rules. You need to have an email & if you do not have name or phone number, make sure there is still a comma included in place of the blank space on your csv.
Tip: If you have a super long list of uploads, it can be easier to break it into just 50 invitees per csv uploads. This can be an easier way to ensure you are following the formatting rules.
Need to merge or combine two YouLi trips together?
Right now, the best way to combine two trips on YouLi is to download one trip's registered travelers and the bulk upload those into the trip you want to keep.