How to automate pre-trip workflows & document exchange to save admin time & reduce the "noise".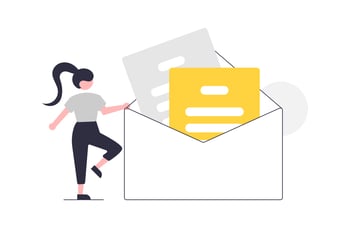 All Trips are able to send AUTOMATED REMINDERS & CONFIRMATIONS, aka messages, via email, to Registered People. These can be REMINDERS or CONFIRMATIONS as detailed below.
NOTE: Anytime you want to see if an automatic message was sent, check your Trip ACTIVITY FEED. This will alert you to the email that was sent, showing who it was sent to, the subject matter, and the click-through button (Call to Action).

Currently, YouLi supports email messages, and SMS integration is available for an integration fee.

You can always send MANUAL MESSAGES which you can send throughout the Planner View as needed (MANAGE PEOPLE & REPORTS menu tab). We recommend you do this as well and not rely 100% on automated messages to improve the customer experience.
All messages are branded with your LOGO and with your TRIP BANNER IMAGE and include the MAGIC LINK for the Traveler to see their personalized TRIP PAGE.
We offer customization of these templates for ENTERPRISE as an add-on.
Automated Message:
REMINDERS
AUTO REMINDERS are sent by our automated system on a regular schedule based on the dates you provide on a Trip. You'll know if Auto Reminders are currently enabled by checking under the UPDATE TRIP section where the Trip Dates are set.

When no specific dates are set, Reminders are OFF, as shown:


When specific dates are entered, Reminders will be turned ON after saving, as shown:

When specific dates are set, Reminders are ON, as shown:


Who gets Automated Reminders? (Qualification)
On Trips with Auto Reminders ON, only the Registered People that qualify will receive reminders.
They must:
Status = "REGISTERED" - as shown by the green person icon in the Manage People section

Have not received another message from YouLi in the last 24 hours - as shown by the Email Sent column in the Manage People section

Have not completed the Payment or Task - as shown in the relevant sections

When do travelers get automated reminders? (Frequency)
AUTOMATED REMINDERS are sent based on the TIME ZONE of the Trip and the DUE DATES of the Task or Payment.
1 week prior to the due date
on the due date
2 days after the due date
What kind of reminders do they get?
NOTE: Trips with Estimated Prices will not send Payment Reminders
Payment Reminders are only enabled if INSTALLMENT DUE DATES are added.
If no dates are set, then NO reminders are sent. DUE DATE is optional for the REMAINING BALANCE DUE but recommended to enable Payment Reminders.
NOTE: PAYMENT REMINDERS take priority over TASK REMINDERS mentioned below. So if there is a Payment and a Task due on the same day, only the Payment reminder will be sent.

Be sure you turn on automatic payment reminders per installment by clicking the checkbox in the installment popup.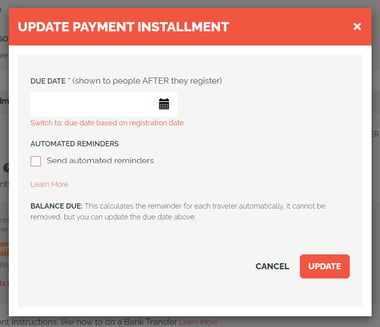 You can always see the Automated Emails sent on your behalf under ACTIVITY FEED tab inside the Trip menu. Learn more about Automatic Emails for Payments.
NOTE: TASK REMINDERS are sent if Trip Dates are set and the Due Date is set for the Task, even with Estimated Prices.
TASK REMINDERS are sent to your travelers:
1 week before the due date
on the due date
two days after the due date
See examples of automatic emails sent on your behalf through YouLi in our Help Doc on Automatic Emails for Tasks.
Automated Message: CONFIRMATIONS

Who gets Automated Confirmations? (Qualification)
When Travelers REGISTER or submit a DEPOSIT for your Trip, they will get an email CONFIRMATION.
NOTE: All Registered Travelers will appear with an indication of their PAYMENT STATUS and details on payments they have made in your MANAGE PAYMENTS tab. Note that if someone registers, pays, and then declines, they will still appear here so you can review their payments.

When do Travelers get confirmation? (Frequency)
Confirmations are sent when:
Traveler registers for your Trip.
Traveler makes a Payment.
What kind of confirmation do they get?
A message is emailed after registration and shown on the TRIP PAGE until PAYMENT is made. You can change the default message by going to UPDATE TRIP > SETTINGS.
Here is a demo example: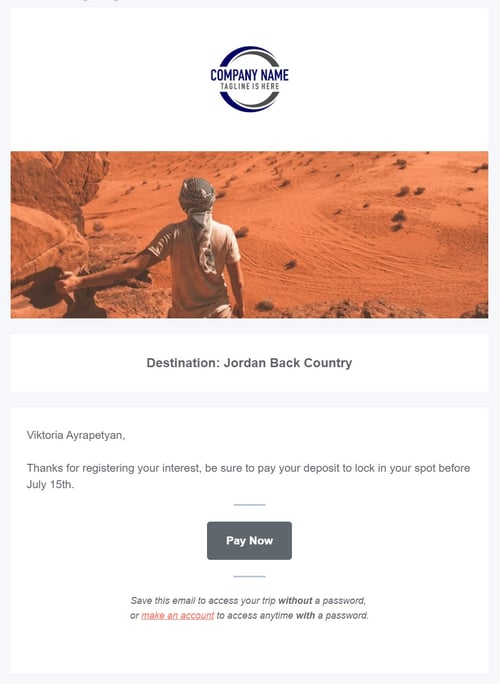 Control the content of the confirmation message under the UPDATE TRIP menu - SETTINGS tab.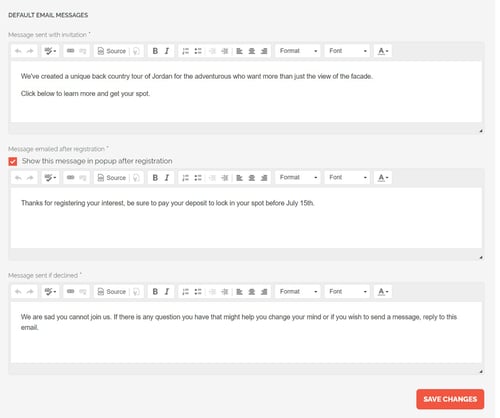 This will be sent to Travelers who REGISTER, whether they do so from a Public Trip or based on receiving an Invitation Email and clicking the Call-To-Action button in the footer.
A message is emailed after Payment is made to confirm and thank your Traveler for paying. See what these payment confirmations look like in our Automatic Emails for Payments Help Doc.

NOTE: Your Travelers will receive a Payment Notification when they make a payment via their email, however, you also have the option to send a Tax Invoice.
For a visual walk-through, watch our help video below:
Also, discover How To Stop Automatic Emails.
FAQ
How do Email Templates work?
To save you from having to create your own emails, YouLi has created a standard set of messages in the form of templates. To add personalization, YouLi automatically replaces things like [Trip Name] or [Traveler Name] with the correct information for your Trip and your Travelers.
Everything becomes personalized for your Travelers automatically. When looking at the samples in this document, anything that is personal information or trip specific will be replaced.
TIP: We recommend adding yourself to the Trip and going through all the cases to see what your messages will look like.
How many Reminders are sent?
We only send one email reminder per 24-hour period. If a Planner has sent a manual message from YouLi on the same day, the reminder will not be sent. Learn more about how to reduce reminder fatigue.
For each TASK or PAYMENT INSTALLMENT due up to 3 reminders are sent.
You can view each of the reminders in the ACTIVITY FEED on the Planner view of the Trip.
CONFIRMATION EMAILS are sent after the relevant action has been taken, this is also logged in the ACTIVITY FEED.
Who do the automated emails come
from?
All emails sent from YouLi are sent using our ESP (Email Service Provider). That means it is free for our clients. We ensure they are sent in a way that avoids getting put in the spam folder, but remember that no system is perfect, so be sure to check if not received.
The FROM address shows as the NAME of the Trip Main Contact, but with the email address of "reply@youli.io". This is for deliverability reasons (to keep the email out of the spam folder).
The REPLY-TO address is the EMAIL of the Trip Main Contact, so most of the time when a Traveler replies to emails sent from YouLi it will go to the Main Contact.
Sometimes, there is an issue with the way the email is handled and the reply goes back to "reply@youli.io". In this case, an automated message will instruct your Traveler to respond via the TRIP PAGE. This is not common, but you can learn more about this case if you hear complaints.
What happens if the Traveler clicks "Make an Account"?
Travelers who click from the emails to "Make an Account" will be prompted to make a YouLi Traveler Account. This is totally optional. Learn more about the YouLi Traveler Account.
---
Need more help?
Type your message in the chat box to ask a question or submit a Support Request ticket.
Join the YouLi Mastermind Facebook group to engage with the community of group trip planners.