With the right YouLi plan, you can add Team Members to help you co-plan your trips.
CAUTION: Not all YouLi plans include Team Members, so you may be prompted to upgrade. If you have any questions, you can always reach out to our Support Team so that we can explain to you your options.

In order to determine whether or not you need a Team Member or a Co-Planner on your trip, ask yourself these questions.
1. Are they a part of your team/company?
If they should have access to all of the same trips as the Team Owner, then the Team Owner should go into their ACCOUNT and select the TEAM MEMBERS tab. From there, they can add a new Team Member.
Once logged in, the new Team Member will see all TRIPS owned by the Team Owner and be automatically added to all future TRIPS created by any Team Member shown under ACCOUNT > TEAM MEMBERS > YOUR TEAM.

The new Team Member will be:

Notified via email that they have been added
Instructed to reset their password to log in


How-to: Add a Team Member
From your AVATAR, click to ACCOUNT > TEAM MEMBERS > click on the + TEAM MEMBER BUTTON

Fill out the ADD TEAM MEMBER form (remember to click ADD!)

Choose whether or not your Team Member is a Main Contact for new Trips that they create
See image above
If your Team Member

should be the primary contact for the TRIPS they create in YouLi and that should be visible to

Travelers

, then you should make them a

MAIN CONTACT

for all TRIPS that they create.

And if not, select "no" under the MAIN CONTACT section


Choose whether your Team Member is "Listed As Contact on Trip Page by Default
NOTE: These settings apply to all trips created within the team's account. You can always change this once a trip has been created, so this feature is just to ensure that if a particular Team Member is always a contact on trips, then you don't have to manually add them to trips each time.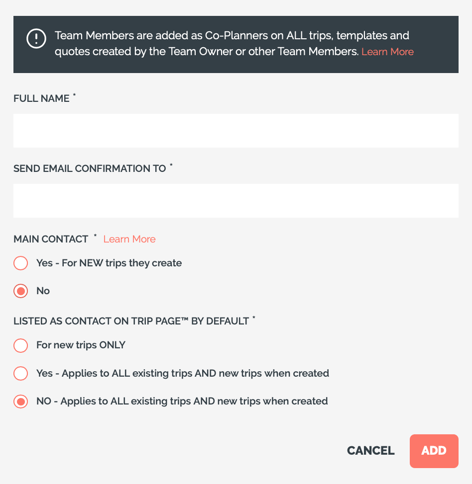 CAUTION: Only if "no" has been selected for MAIN CONTACT, you will have the option to decide whether this Team Member will be "Listed as Contact by default on Trip Page by default."
To determine which is the right option, ask yourself:
Should the Team Member's contact information appear on the Trip Pages for Travelers to contact by default?
If not, chose "NO - Applies to ALL existing trips AND new trips when created"
If yes, then choose when this should be true:

"For new trips ONLY" (from this point forward)
"Yes - Applies to ALL existing trips AND new trips when created"

If you chose "yes", then your new Team Member will appear like this on the TRIP PAGES of the trips they are co-planning.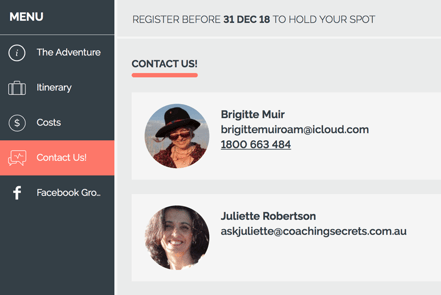 2. Is this Planner helping out with just one Trip?
If the person should have access to only one or a few of your TRIPS, then you might want to invite them as a one-off Co-Planner or Trip Coordinator.
From within a TRIP PAGE, click MENU > MANAGE TRIP PLANNERS, to see your TRIP PLANNERS

.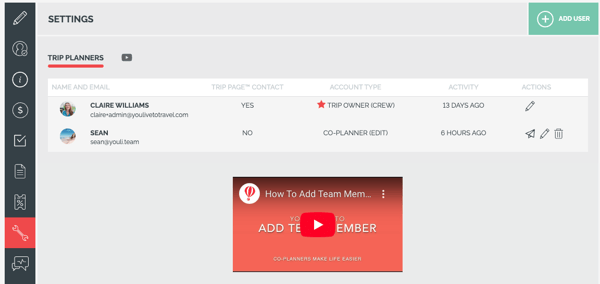 Troubleshooting
To remove someone from your Trip Page

or

your team
Click the trashcan icon next to their name

This will not delete their YouLi account, they'll still be able to log in, but won't have access to the TRIPS they were previously on when you had them as a Co-Planner or Team Member
To edit the details of a Team Member or Co-Planner
Click the pencil icon next to their name to edit their information
To resend an email invite to become a Team Member or Co-Planner
Click the paper airline icon next to their name
This can be done if they haven't accepted the invitation

or

they need to reset their YouLi account password
---
Need more help?
For more tips on pre-trip customer support join the YouLi community of travel professionals with monthly LIVE webinars and Q&A sessions.